Stranger Things Overview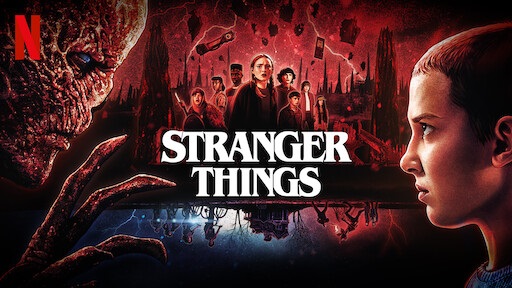 Have you ever seen the hit Netflix show "Stranger Things?" If you haven't, you are missing out! Stranger Things holds the record for most days in the number one position for twenty-nine days. There is a fluctuation of the main characters, and there are a total of four seasons. The fifth season is coming out in 2024. The show stars Millie Bobby Brown who plays Eleven (AKA Jane Hopper).  The rest of the main cast is as follows: Finn Wolfhard plays Micheal Wheeler, Noah Schnapp plays William Byers, Gaten Matarazzo plays Dustin Henderson, Caleb McLaughlin plays Lucas Sinclair, Joe Keery plays Steve "The Hair" Harrington, David Harbour plays Jim Hopper, Natalia Dyer plays Nancy Wheeler, Mike's older sister, Winona Ryder plays Joyce Byers, who is Will's mom, Charlie Heaton plays Jonathan Byers, Will's older brother, and Maya Hawke plays Robin Buckley (the newest recurring character for seasons 3 and 4). In addition to the main cast members, there are also two new stars for season 4;  Joseph Quinn, who plays Eddie Munson, and Jamie Campbell Bower, who plays Vecna (AKA One).
     Now that we've gotten the cast and characters out of the way, it's time for the review of the show. Personally, [we] liked the show. It was quite entertaining, enjoyable, and sometimes hit hard in the feelings.  Season four was a bit long, with each episode ranging from an hour long to an hour and a half, with the season finale being two and a half hours! It's worth the watch though, being one of the best seasons and now a very known villain, which is Vecna. In my opinion, season three was the best.
The main idea of "Stranger Things" is that a group of 5 kids named Will, Mike, Eleven, Dustin and Lucas, fight monsters from a world called the "Upside Down." The Upside Down is another world with very dangerous creatures which are tested in Hawkins Lab.  Each season had a new villain for the kids to face, each more dangerous than the last. The main fan theory is that Vecna fully controls all the Upside Down creatures. There are many main ideas and plot lines to the story of Stranger Things, but this is the main one.
    Sometimes the fan base for Stranger Things can be toxic, but if you're a fan of the show, you could look past that! Not everyone's opinions will be the same as ours, and that's okay! We, along with a lot of others, highly recommend this show if you need something to watch! Give it a try on Netflix now!