Who Run the World? GIRLS!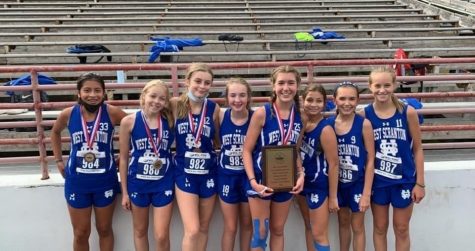 The JV Girls' XC team had an undefeated season and won Districts! What a year for the cross country team at WSIS! Coach Scott Grecco and assistant coach Paul Divine had worked hard this year to train seventh graders Megan Fox, Katie Fahey, Nora Frounfelker, Nina Emiliani, Madison Tesluk, Isabella Stanton, and freshmen Isabella Fay and Mia Hernandez. The girls had trained around the neighborhoods in West Side, and Districts were held on October 24 at 12 p.m.
The girls on the team train everyday from 3-4 p.m., Mondays through Fridays. They started their season in late August and attended meets around the area. Their undefeated record then brought them to Districts. The team arrived at the Dunmore School District track early to stretch and warm up for the big meet. The JV team competed against several other teams in a 2-mile course, and brought home a victory for themselves and for their school.
Scott Grecco spoke to us and told us about the team. "The girls showed up every day, worked hard, challenged themselves and became the first undefeated team in West Scranton cross country history," Coach Grecco said. He also told us that he was looking forward to next year already! Lastly, Coach Grecco added, "I would like everyone to know how hard all the girls worked."
The Girls' JV XC team had a great season, and held a party celebrating their victory. They worked hard and enjoyed every practice and meet. They rooted for one another, and always pushed each other to be their best. This goes to show that teamwork, hard work, and determination really do pay off. Stay safe, stay healthy, and remember: West is best!!!