Soul: A Movie from Pixar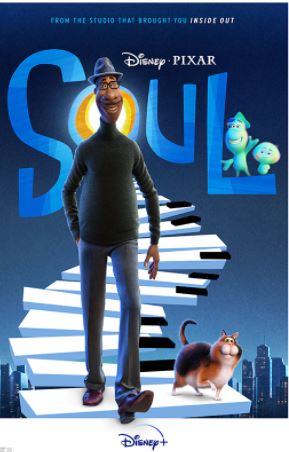 Joe Gardner (played by Jamie Foxx) is a talented jazz pianist who teaches music to middle school students.  His passion was always to play jazz music professionally, but it never happened.  He feels his life is just ordinary and hasn't been anything special.  He gets a call from a former student to audition for a show with a legendary jazz musician, Dorothea Williams (played by Angela Bassett).  He races to the club and impresses her. She tells him he starts that night at seven!  Joe feels his life is now really beginning! He's so excited that he walks out of the club and doesn't notice the manhole cover is open on the street.  Joe falls through and ends up in the hospital, in a coma, dying. 
The movie is mostly about Joe going to the "Great Beyond."  He isn't ready, so he runs the other way and his soul gets stuck in a place called the "Great Before."  It is where souls prepare to find their "spark," what will make their life happy, down on Earth.  Joe meets soul #22 (played by Tina Fey) and neither have a clue as to what's going to happen.   Joe and 22 start a journey together to find 22's spark and to keep Joe away from the white lights.  He gets to look back on his life and see it wasn't so boring and he really has helped many people.  Some of his students would never have gotten into music if it wasn't for him.   Can Joe and 22 get through their misadventures, in the afterlife,  to make it back to their Earthly bodies?  Watch and see what fun and crazy shenanigans these two get into,  from the streets of New York City to the cosmic realms.  
Soul is a light-hearted, spiritual movie with great animation, scenery and music.  It has a fantastic cast of characters and sends the message of not taking your life for granted.  Don't get so hung up on what you're NOT becoming, that you miss all of the small, beautiful things that ARE happening!! Movie critics have been on both sides of the overall rating.  Most have given it 4.5 stars out of 5, but there are a few who did not agree.  I, myself, thought it was great!  It touches on many emotions and leaves you truly appreciating the gift of life!  Check it out!